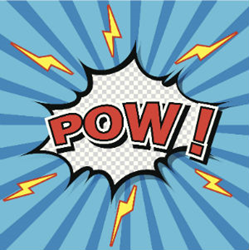 San Diego, CA (PRWEB) March 11, 2014
Recent runaway viral successes like Upworthy.com have shown that the right headlines for content can garner an avalanche of interest that can lead to massive amounts of social sharing. San Diego marketing agency Bop Design responded by creating a list of suggestions to help marketers re-tool headlines for their blog posts and articles to generate more attention from their readers.
Your businesss successful content marketing plan depends on catching your readers interest, explains Bop Design business principal Jeremy Durant. But how can you guarantee that the content your business puts out will be something that readers want to check out?"
Here are Bop Designs suggestions to craft memorable headlines.
Make an emotional connection

Every reader of a website is a human being and human beings are guided by their emotions. Marketers should pick an emotion that they want their readers to feel and use that as the starting point for their blog headline. Some examples are: excitement, relief, anticipation, exclusivity or wonder.
Enhance vocabulary

The first headline pass doesnt have to be the last. Writers should play with wording in their headlines. Using a thesaurus helps to find replacement words that pack a stronger emotional punch. Alliteration and rhyming are also memorable ways to craft a headline.

For example, How to Save Money on This Years Taxes could be revised as, 10 Tax Tips for Proud Penny Pinchers.
Pose a question

Headlines that ask questions naturally imply that the answers will be found in the accompanying article, so posts with enquiring headlines should be found in any effective content marketing plan. Questions also naturally elicit mental responses, so headlines that feature questions are already on their way to connecting more deeply with readers.
Use plain language

This is a tip we cant stress enough, says Durant. Youre writing a helpful article, not a doctoral thesis, so dont be afraid to write your article headline like you would describe it verbally to a colleague. Readers want to easily digest your content, not sift through dense article titles.
Test titles before pressing publish

This does not require complicated A/B testing on the website. Instead, marketers should draft multiple article headlines and ask a colleague which article sounds most interesting. Their gut reaction as a cold reader should give the writer a sense of which article title will get the strongest reaction from the public.
Dont ditch the negative

If a writer is really stumped for an article title that doesnt sound boring, they should consider converting it into a negative. It can sound more titillating and incite reader interest. Here are some examples: What NOT to Do When Your House Floods, or If Youre Happy with Your Weight, Do Not Read this Article.
Shorten the title

Whenever possible, marketers should brainstorm ways to cut down on headline word count before publishing their articles. This forces the writer to get creative with their headline and can make it more impactful for the reader. Durant explains, The goal is for readers to want to engage with your article, not just glance at the headline and move on, so be sure not to give all the information away in the headline.
You might not be able to implement all of these strategies for each of your headlines, concludes Durant, But writing interesting headlines that get more clicks will get easier with practice.
###
Bop Design is a San Diego marketing and web design agency with offices also in Orange County, CA and the New York metro area. Specializing in B2B, Bop Design creates holistic marketing plans geared toward lead generation and business development. Bop Design offers services in branding, logo design, website design and development, responsive web design, SEO, PPC, social media, and content marketing. http://www.bopdesign.com