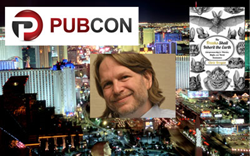 Austin, TX (PRWEB) August 28, 2014
Pubcon, the search marketing event of the year, is happy to announce that bestselling author and noted entrepreneur Chris Brogan, chief executive of Owner Media Group, will present a major keynote address during Pubcon Las Vegas 2014 and our 15th anniversary week at the Las Vegas Convention Center in the entertainment capital of the world.
Brogan is the worlds leading authority on owning the game you most want to win and a New York Times bestselling author of eight books including his newest, The Freaks Shall Inherit the Earth: Entrepreneurship for Weirdos, Misfits, and World Dominators, which hell also be signing during Pubcon Las Vegas 2014.
Combining a mix of professional leadership development and business strategy, Brogan notes that he works with professionals like you to own your choices, own your life, and own your future. Other books by Brogan include Just Start Here, Superheroes in the Basement, Its Not About the Tights: An Owners Manual on Bravery, The Impact Equation: Are You Making Things Happen or Just Making Noise?, Google+ for Business: How Googles Social Network Changes Everything, and Social Media 101: Tactics and Tips to Develop Your Business Online.
Were happy to present Chris Brogan one of the worlds most successful social media and technology entrepreneurs who has nearly 300,000 Twitter followers as a keynote speaker during our big October Pubcon Las Vegas 2014 conference, said Pubcon founder and chief executive Brett Tabke.
Pubcon Las Vegas 2014 attendees are in for an enjoyable and cutting-edge treat as Chris takes part in one of our best weeks ever of search and social media marketing, also featuring keynotes by noted serial entrepreneur Ted Murphy, founder, chief executive and chairman at IZEA, New York Times bestselling digital marketing author Jay Baer, Microsofts Duane Forrester, and Jason Calacanis, chief executive and founder of Inside.com and longtime angel investor, Tabke added.
Brogan, who has spoken for and consulted with major brands including Google, Disney, Coke, GM, Microsoft, Coldwell Banker, Titleist, Scotts, Humana Health, Cisco, Sony USA, among others, has appeared on the Dr. Phil show, interviewed Richard Branson for a cover story for Success magazine, and has also presented to a Princess.
Tony Robbins has had Brogan on his Internet Money Masters series, and Forbes listed him as one of the Must Follow Marketing Minds of 2014, also listing his website as one of the 100 best websites for entrepreneurs.
Having Brogan present a major social media keynote address at Pubcon Las Vegas 2014 will be a fantastic opportunity for attendees of the worlds top optimization and new media conference to learn from one of technologys leading entrepreneurs and personalities. Brogan will share some of his highly-successful approaches to social media with Pubcon conference-goers in a keynote entitled The Owners Path: How to align your tools, your time, and your efforts to improve reach, gain influence, and own the game you most want to win, which is certain to benefit all those lucky enough to attend it.
With Brogans keynote address Pubcon rounds out a record five major keynotes, along with a blockbuster lineup of more than 130 great sessions featuring over 180 top industry speakers in nine full daily session tracks that will make Pubcon Las Vegas 2014 named a Forbes must-attend and an Inc. top event for growing your business one of the most robust new media and search marketing events ever held, on October 6 9 at the massive Las Vegas Convention Center.
Registration is available now for Pubcon Las Vegas 2014 at some of the fairest pre-show prices around, to join thousands of the most tech-savvy attendees, speakers, exhibitors, sponsors and media partners for an unforgettable week including Pubcons famous lineup of entertaining nighttime networking events that will extend each days sessions well into the Las Vegas nights, including a Pubcon Classic party.
Pubcon Las Vegas 2014 also features the optional and always sold-out Pubcon Masters Group intensive training program, featuring three premium tracks dedicated Facebook and Google advertising, social media marketing and optimization, and organic search engine optimization (SEO).
Join Brogan, Murphy, Baer, Forrester, Calacanis and other leading industry futurists in the fields of social media, search engine and Internet marketing, Web development, PPC advertising, Internet video, blogging and affiliate programs and many other online niches who will be gathering in the entertainment capital of the world this October 6 9 for Pubcon Las Vegas 2014, including Pubcons exclusive second-annual U.S. Search Awards.
Learn more and register at http://www.pubcon.com.
About Pubcon
Pubcon is a multi-track educational conference hosted by Pubcon Inc. Pubcon, supported by the industrys leading businesses, speakers, exhibitors, and sponsors involved in social media, Internet marketing, search engines, and online advertising, offers an in-depth look at the future of technology presented by the worlds top speakers in provocative cutting-edge sessions.
For more information about the conference, contact Brett Tabke at 512-231-8107 or brett(at)pubcon(dot)com.
For more details about sponsorship and exhibition opportunities, contact Conference Director Jeff Randall at 512-686-1295 or jeff(at)pubcon(dot)com.