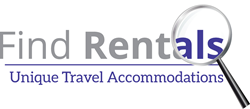 Buffalo, NY and Boca Raton, FL (PRWEB) February 26, 2014
FindRentals.com, based in Buffalo, NY, and Top Pro Media Group, with corporate offices in Boca Raton, FL, announce a partnership to help enhance the online experiences of people planning one-of-a-kind vacations and match them with unique travel accommodations, virtually anywhere in the world.
FindRentals.com has matched travelers with unique vacation accommodations since 2002. With a directory of over 40,000 vacation rentals worldwide, from small bungalows on private beaches, to expansive villas set on remote mountainsides, to gracious private homes in popular vacation destinations, FindRentals.com has helped millions of vacationers to have one of a kind experiences.
These arent hotel rooms with nondescript d